Retirement is a wonderful time, and deciding where to live later is important. There are plenty of options for finding retirement communities in Niagara Falls, Ontario, a city renowned for its breathtaking waterfalls and energetic atmosphere, and they cater to the particular requirements and preferences of retirees. 
This guide will inform you about the crucial factors to consider and offer insightful advice to assist you in finding ideal retirement communities in Niagara Falls.
What is a Retirement Community?
Retirement communities, also called senior living communities, are residential areas specifically designed for people 55 and older. These communities provide assisted living, independent living, and memory care, among other housing options and amenities catering to senior citizens' special requirements.
Finding a retirement community in Niagara Falls involves location, amenities, services, and cost. Numerous retirement communities in the Niagara Falls area offer various amenities and activities to improve retirees' quality of life while catering to their specific needs and preferences.
Importance of Finding a Retirement Community in Niagara Falls
Seniors can enjoy their retirement years in retirement communities' encouraging and stimulating environments. There are advantages to living in a retirement community, including having access to social interactions, recreational opportunities, and specialized care if required. Additionally, a lot of Niagara Falls' retirement communities are conveniently close to amenities, medical centers, and scenic attractions, making them a desirable option for retirees.
Benefits of Living in a Retirement Community in Niagara Falls, Ontario
Seniors can benefit greatly from retirement communities. They provide a lively social atmosphere that enables retirees to interact with others who share their interests and participate in various activities. In addition, these neighborhoods frequently give residents access to gyms, swimming pools, dining establishments, and planned activities. Retirement communities also provide security through security measures, maintenance services, and healthcare assistance when required.
Factors to Consider When Choosing a Retirement Community in Niagara Falls, Ontario
It's important to consider several factors that will affect your overall quality of life when starting your search for a retirement community in Niagara Falls. By looking at these factors, you can decide and locate a retirement community that fits your preferences and lifestyle. These are the main elements to think about:
Location & Accessibility & Amenities
Pick a retirement community conveniently close to amenities like hospitals, shopping malls, parks, and cultural attractions. A convenient location for these amenities will guarantee a relaxing and rewarding retirement lifestyle.
Housing Options & Offred Amenities 
A retirement community's housing options should be evaluated. Ensure the community has the accommodations you need, whether you prefer independent living or require assisted living services. Also, consider the extras, such as housekeeping assistance, dining options, fitness centers, and transportation services.
Healthcare and Medical Services
Give high priority to retirement communities that provide complete medical and healthcare services. Look for areas with on-site medical staff, assistance with medication management, and affiliations with nearby clinics and hospitals. The community should effectively address your health needs.
Social and Recreational Activities
A fulfilling retirement depends on having a thriving social life. Examine the retirement community's available social and recreational activities. Search for areas that host social gatherings, exercise classes, hobby clubs, and cultural events. You can maintain an active lifestyle and make new friends by participating in activities you enjoy.
Cost and Financial Considerations 
Recognize the retirement community's cost structure and decide if it fits your spending plan and financial objectives. Ask about the monthly costs, extra fees for particular services, and any potential price increases in the future. Before making a choice, be sure you are fully aware of the financial implications.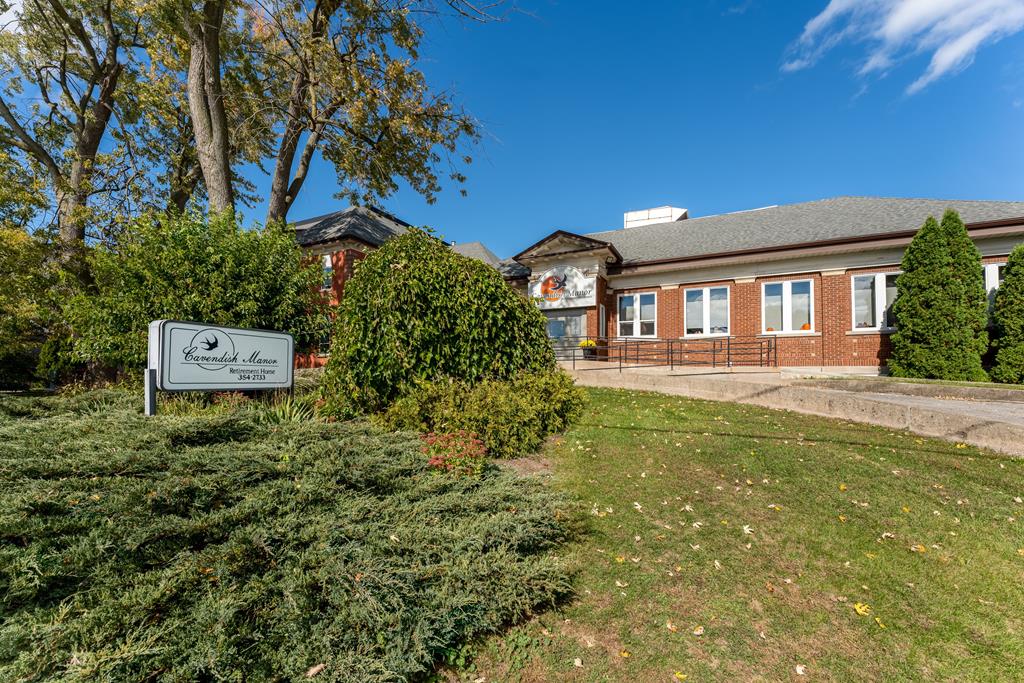 Types of Retirement Communities in Niagara Falls, Ontario
Retirement communities of all types are available in Niagara Falls, each meeting specific requirements and tastes. Your ability to effectively narrow your options will depend on your understanding of the differences between these communities. The primary categories of retirement communities in Niagara Falls are as follows:
Independent Living Communities
Communities for independent living are made for independent and active seniors who want a maintenance-free lifestyle. Private homes are available, along with various amenities, in these communities, allowing residents to maintain their independence while still having access to assistance if required.
Assisted Living Facilities
Facilities for assisted living offer help and support with daily tasks like bathing, managing medications, and dressing. These locations are appropriate for people who need help but still want independence. Individualized care plans are provided to residents based on their requirements.
Nursing Homes and Long-Term Care Facilities
Long-term care facilities and nursing homes are designed for people who need round-the-clock nursing care and assistance with daily tasks. In addition, these communities cater to seniors with complex medical needs by providing a higher standard of medical care and assistance.
How to Research Retirement Communities in Niagara Falls?
To make a well-informed decision, learning as much as possible about retirement communities in Niagara Falls is crucial. Here are two good strategies to help you with your research process:
Online Search and Review Websites
Review websites that offer thorough information about retirement communities in Niagara Falls using online resources. Review reviews, contrast amenities, and consider current and former residents' experiences. Thanks to your research, you will learn important information about the standing and caliber of the retirement communities you are considering.
Visiting and Touring Retirement Communities
Make appointments to visit the retirement communities that most interest you. Visit the facilities, talk to the staff, and interact with the residents. You can determine whether the community meets your expectations and needs by visiting in person to get a first-hand impression.
Steps to Finding the Right Retirement Community in Niagara Falls
Choosing the best retirement community requires an organized and thoughtful process. These actions will aid you in your search:
Step 1. Determine Your Needs and Preferences
Identify your unique needs and preferences to get started. Consider elements like location, climate, community size, level of care, amenities offered, social activities, and proximity to loved ones and friends. Your priorities will guide your search.
Step 2. Research and Gather Information
Use various resources to learn more about retirement communities in Niagara Falls. Visit community websites, look through online directories, and read reviews and endorsements from current residents. Look for areas that fit your preferences and identified needs.
Step 3. Visit Multiple Communities
Make appointments to visit several retirement communities in Niagara Falls that appeal to you. This will allow you to evaluate the atmosphere, interact with the staff and residents, and personally experience the amenities. Compare the features of each community, make notes, and ask questions.
Step 4. Consider the Costs
Recognize the financial features of retirement communities in Niagara Falls. Ask about entrance fees, ongoing costs, and extra fees for particular services or amenities. Consider whether the costs are within your means and whether you qualify for any available financial aid.
Step 5. Evaluate the Amenities and Services
Analyze the services and amenities that each community provides. Consider dining options, fitness centers, leisure activities, cultural programs, transportation options, and medical facilities. Check to see if the neighborhood offers the comfort and convenience you want.
Step 6. Examine the Healthcare Options
Examine the healthcare options available in each retirement community if healthcare services are important to you. Ask about the level of care offered, on-site medical staff availability, access to healthcare professionals, and emergency response systems. Take into account your present and foreseeable medical needs.
Step7. Talk to Current Residents
Talk to current residents to learn more about their perspectives and level of satisfaction with the neighborhood. Find out about the level of care, social opportunities, staff responsiveness, and general atmosphere. Their first-hand experiences can offer important information that will aid in your decision-making.
Step 8. Consider the Community's Culture
Analyze the culture and values of the area. Check if the setting encourages engagement, inclusivity, and a sense of belonging. Find a neighborhood where you can feel at home and meet people who share your interests.
Step 9. Review the Contract and Policies
Examine each retirement community's contract and policies in great detail. Regarding residency, costs, services, and potential transitions (like assisted living or memory care), pay attention to the fine print. Before agreeing to the terms, be certain that you comprehend them completely.
Step 10. Consult with Professionals
To know more about the financial and legal implications of moving to a retirement community, consult financial advisors, attorneys, or geriatric care managers. They can offer advice tailored to your circumstances and aid in your decision-making.
Tips for Making the Decision and Moving to a Retirement Community in Niagara Falls
The choice to relocate to retirement communities in Niagara Falls is crucial in your future planning. It's a decision that can offer many advantages and opportunities for a happy retirement lifestyle. Here are some things to keep in mind when deciding where to live in retirement communities and making the subsequent move.
Think about your health, style preferences, desired level of independence, and other particular amenities or services.

Investigate the different retirement communities in Niagara Falls if you want. Consider elements like the neighborhood's reputation, amenities offered, healthcare options, and ambiance generally. 

Be aware of the expenses, such as the entrance fee, the monthly fee, and any other fees for extra services or amenities. 

Find areas where many clubs, events, and activities fit your interests and preferences. 

If additional healthcare assistance, such as assisted living or memory care, is required, consider the level of care offered, the availability of medical staff, and all other factors.

Ask around among the current residents of the retirement communities you are thinking about.

Think about the logistics of downsizing your belongings, renting or selling your current home, and arranging to deliver your property to your new home. 

Accept the chance for a new beginning and chapter in your life.
FAQs about Retirement Communities in Niagara Falls
How can I assess the quality of care in a retirement community?
You can ask about the staff members' credentials, education, and certifications to evaluate the caliber of care provided in a retirement community. In addition, ask about the accessibility of medical personnel and the protocols for dealing with emergencies. Speaking with current residents and their families can also reveal information about the quality of care offered.
Are there age restrictions for moving into a retirement community in the Niagara Falls region?
The minimum age requirements for retirement communities are typically between 55 and 62. However, these specifications can differ between communities, so it's important to inquire about the age restrictions in each particular community.
Can I bring my furniture and belongings to a retirement community?
For a familiar and cozy living environment, most retirement communities in Niagara Falls allow residents to bring their own furniture and personal items. It is best to confirm with the particular community to understand any limitations or guidelines regarding furniture and personal items.
Can I visit and tour retirement communities in the Niagara Falls region before deciding?
Yes, visiting and touring retirement communities is strongly advised before choosing. First, you can do this to get a feel for the community's vibe, amenities, and interactions with staff and residents. Then, it enables you to make a well-informed choice based on your experiences.
How can I learn more about retirement communities in the Niagara Falls region?
By visiting their websites, getting in touch with them by phone or email, or requesting brochures and information packets, retirement communities in the Niagara Falls area can be found out more.
The Best Retirement Community Near Me in Niagara Falls, Ontario, Canada
Cavendish Manor Retirement Residence is a remarkable retirement community situated close to the breathtaking Niagara Falls. With a goal of providing exceptional care and an enriching lifestyle, Cavendish Manor offers many services and amenities to ensure a fulfilling and comfortable retirement experience.
Services and amenities offered at Cavendish Manor Retirement Residence include:
Spacious and well-appointed accommodation.

Restaurant-style dining.

Social and recreational activities.

Housekeeping and maintenance.
Positive reviews and testimonials from satisfied residents and their families highlight the exceptional experience at Cavendish Manor Retirement Residence in Niagara Falls:
"

Cavendish Manor

has exceeded our expectations in every way. The staff is friendly, compassionate, and truly cares about the residents. The amenities and activities provided have made our loved one's retirement years truly enjoyable." – Jane R.

"Moving to

Cavendish Manor

was the best decision for our retirement. Their community is warm and welcoming, and their personnel goes above and beyond to ensure our needs are met. We have made wonderful friends and are living life to the fullest here." – John and Mary D.
If you're considering a retirement community in the Niagara Falls region, take the ultimate next step and contact Cavendish Manor to experience the breathtaking beauty of Niagara Falls combined with the convenience and support of a retirement community.
Act today and reach out to us to begin your journey towards a fulfilling and vibrant retirement lifestyle.